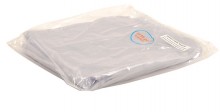 Disposable Liner for the Birth Pool in a Box. The liner fits both regular and professional Birth Pools in a Box.
All purchases of the Regular Birth Pool In A Box includes a liner. Always use a new liner for birth. 
Buying an extra liner allows you to do full trial runs, or use the pool for relaxation in late pregnancy.
Free from cadmium, lead, phthalates and latex